Safe Prescription Storage and Disposal Information
Lock Up – Don't Share – Safely Dispose
Unused or expired medications are a public safety issue, leading to potential accidental poisoning, misuse, and overdose. All medicines can be dangerous if not stored properly, if not taken as directed, if taken by the wrong person, or if not thrown away safely.
Engage
"Two-thirds of teens who misused pain relievers in the past year say that they got them from family and friends, including their home's medicine cabinets, making it important to safeguard medicine in the home," according to the Partnership to End Addiction. Take opportunities to talk with kids and teens about the dangers of taking medicine that is not prescribed to them.
Monitor
Would you know if some of your pills were missing? Start by taking note of how many pills are in each of your prescription bottles or pill packets, and keep track of refills. This goes for your own medicine, as well as for your kids and other members of the household. If you find you need to refill your medicine more often than expected, that could indicate a problem. If your child has been prescribed medicine, an adult should give them the proper amount as needed and monitor dosages and refills by tracking doses on a log.
Store/Secure
The safest way to keep medicines stored is to lock them up where others (such as children or pets) cannot access them. Approach securing your prescriptions the same way you would other valuables in your home, like jewelry or cash. Remove prescriptions from the medicine cabinet and secure them in a place only you know about. If possible, keep all medicine, both prescription and over-the-counter, in a safe place, such as a safe, locked cabinet or lockable box that others cannot access and store refrigerated medicine in a lockable box, away from food items.
Dispose
No longer need a medicine? Is any medicine at home expired? The safest way to dispose of unwanted, unused, or expired medications (both prescription and over the counter) is to physically remove them from the home as soon as possible by using one of the following options below. In the meantime, securely lock it up.
Use a medication deactivation kit.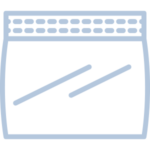 Drop off at a medication kiosk.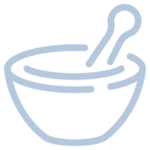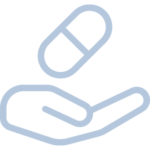 If 1-3 are not available, safely dispose at home as shown below.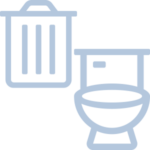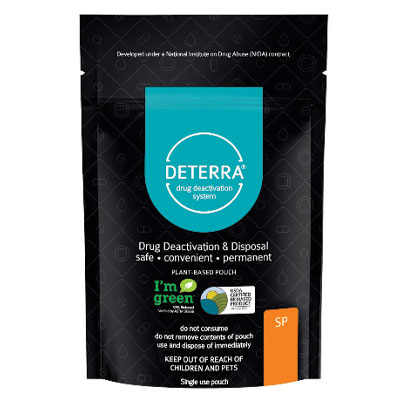 1. Use a Deterra Drug Deactivation and Disposal System.
Deterra is an active carbon substance that renders drugs inert, or inactive, so they can be safely thrown away. It meets current EPA and DEA requirements for drug disposal and reduces environmental impact. The pouch itself is biodegradable.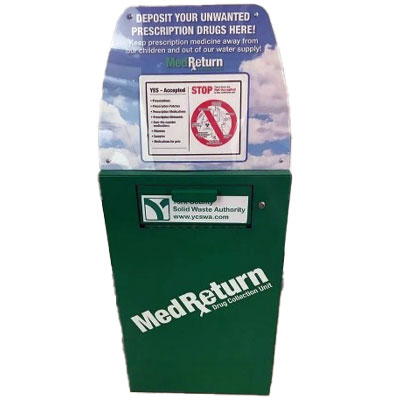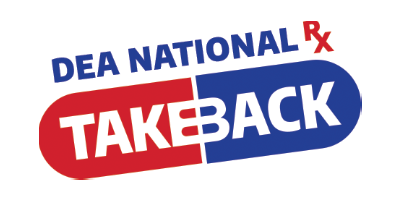 3. Participate in the DEA's Take Back Day event, twice a year at multiple locations in York County.
4. If the options listed above are not available, follow these steps.
If your medicine is:
On the FDA flush list, your next best option is to immediately flush these potentially dangerous medicine down the toilet.
NOT on the flush list, you should follow these instructions to discard the medicine in your trash at home.
Remember, don't flush your medicine unless it is on the flush list.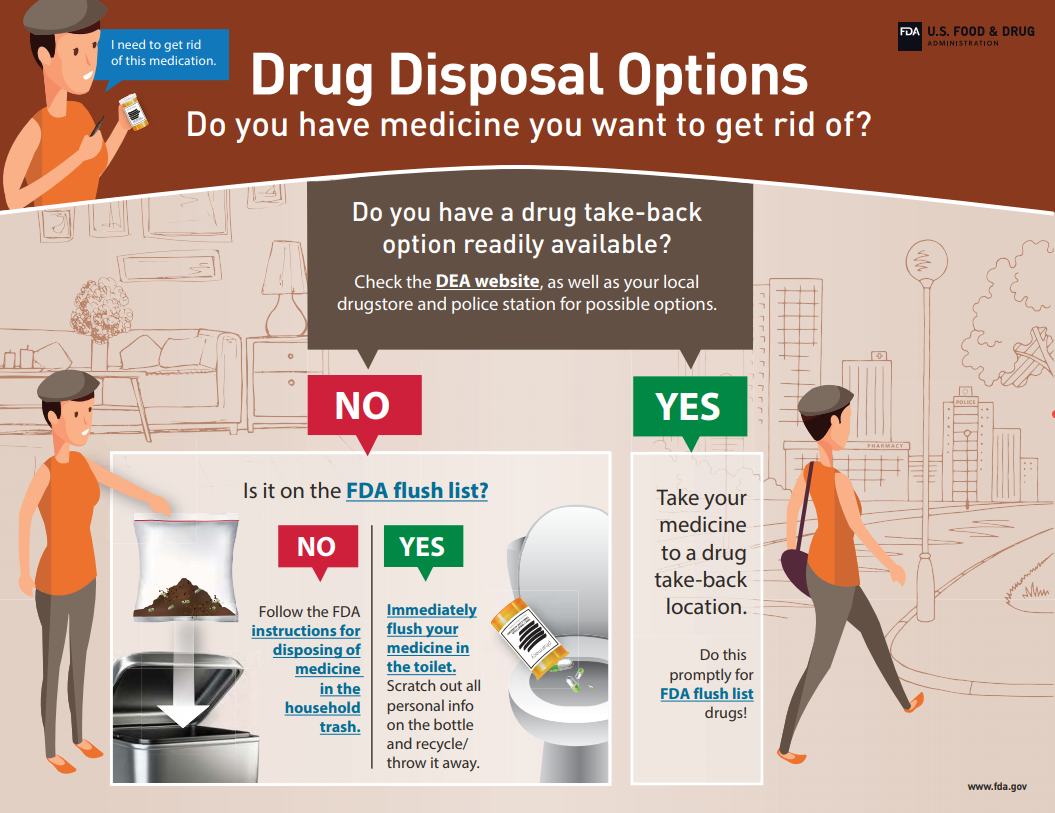 Always scratch out all personal information on empty pill bottles before disposing them in the trash.
Brochure about safe storage and safe disposal of prescription medications
Click to download (PDF)